I'm not big on celebrating St. Patrick's Day.
In fact, I'm not a fan of beer. At all.
But I do enjoy a mean plate of corned beef and cabbage!
Hopefully I can scrounge up a yummy recipe since my mom, who usually
cooks it every year is on the other side of town taking care of my g-parents.
Anywho! Link up with Nicole as she hosts Thursday 5!
This is my first time doing this, so hopefully I don't completely fail :)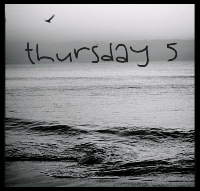 I like starting my day off with an awesome
upbeat
song! It makes
me feel all fuzzy inside and not to mention I bust out with the happy dance!
So far, this has been a
fantastic
week! After all, I'm on spring break!
Ron also took the whole week off so we could have some quality time together!
After putting it off for 2 weeks, I finally got serious, sat down, and wrote
my ethics paper for school. This thing has been seriously looming over my head. I sat down and with my sister's help, I managed to pull some great resources to help me get started. Boy, do I feel
accomplished
!
Earlier this week, Ron, my mom, and I ate lunch at Einstein's. As I looked out the
window, I saw a couple with a beautiful husky! So naturally, being a husky owner, I had to go outside and pet her...only to find out, she was a stray and the couple were housing her until they could a) find her owner or b) find a shelter to takeher. I went back inside and told the family about this. My mom's immediate response?
Let's take her home!
Awkwaaard. Especially for my mom, the same lady who wacked me upside my head when I secretly bought a husky and brought her home (my mom isn't the biggest dog lover).
Long story short, after some deliberation, we decided to adopt her! And
when I say we...I mean my mom! How
thoughtful
of her to open her home to a lost pup! And since she brought her home, the two have been inseperable!
Kenai, my Husky (bottom) and Mishka, mom's new pup (top)
As previously mentioned, my sister helped me with my ethics paper. I must say,
she (cue harry potter voice) is bloody
brilliant
! And she always has been! Without her, my paper would be all over the place!
And lastly, here's my song/video of the week! Link up with Amber and share your weekly song!
This video blew up on youtube, and when I first saw it, it completely

melted my heart! I'm sure a lot of you have seen this video before, but it always puts a smile on my face!